Items filtered by date: February 2020
Monday, 24 February 2020 00:00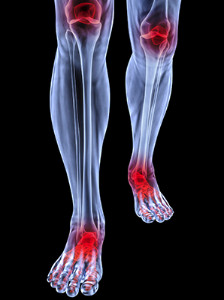 One particular kind of arthritis that can affect the feet and ankles is known as rheumatoid arthritis, or RA. Symptoms of RA may include the feeling of stiffness in the ankle joints, which may stem from an inflammation issue of the ankles. Over time, the overall structure and shape of the joints in the ankle may change due to RA. Those with RA may feel pain in the heel, Achilles tendon region, toes, and ball of the foot. Patients with rheumatoid arthritis may also experience difficulty walking or standing for long periods of time, as the overall mobility of their joints become increasingly restricted. Partaking in light exercises, following an anti-inflammatory diet, and using medication for reducing inflammation and pain may help to relieve the symptoms of RA. For information on how arthritis affects the feet, we recommend you consult with a podiatrist for professional care and an advised treatment plan.
Arthritis can be a difficult condition to live with. If you are seeking treatment, contact one of our podiatrists from Cascade Foot Clinic. Our doctors can provide the care you need to keep you pain-free and on your feet.
Arthritic Foot Care
Arthritis is a joint disorder that involves the inflammation of different joints in your body, such as those in your feet. Arthritis is often caused by a degenerative joint disease and causes mild to severe pain in all affected areas. In addition to this, swelling and stiffness in the affected joints can also be a common symptom of arthritis.
In many cases, wearing ill-fitting shoes can worsen the effects and pain of arthritis. Wearing shoes that have a lower heel and extra room can help your feet feel more comfortable. In cases of rheumatoid arthritis, the arch in your foot may become problematic. Buying shoes with proper arch support that contour to your feet can help immensely.
Alleviating Arthritic Pain
Exercises that stretch the foot can prevent further pain and injury and increase mobility
Most of the pain can be alleviated with anti-inflammatory drugs, heat, and topical medications
Massages can help temporarily alleviate pain.
It is best to see your doctor for the treatment that is right for your needs and symptoms. Conditions vary, and a podiatrist can help you determine the right method of care for your feet.
If you have any questions, please feel free to contact our offices located in Bend and Redmond, OR. We offer the newest diagnostic tools and technology to treat your foot and ankle needs.
Read more about Arthritic Foot Care
Monday, 17 February 2020 00:00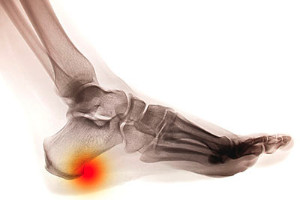 Pain in the heel and surrounding area may be indicative of a heel spur. It is considered to be a bony growth that develops on the heel of the foot. It can grow in length, and extend to the middle of the foot, which may cause severe pain and discomfort. The symptoms that many patients experience typically consist of a sharp pain in the heel after arising in the morning, heat coming from the affected area, and the heel may be extremely tender, which may inhibit walking. This condition can occur as a patient ages, which may also contribute to the soft tissue becoming thinner in the heel. It may happen as a result of an injury that previously occurred to the heel, wearing shoes that do not fit correctly, or it may develop from being overweight. If you are afflicted with a heel spur, it is strongly suggested that you are under the care of a podiatrist who can properly treat this condition.
Heel spurs can be incredibly painful and sometimes may make you unable to participate in physical activities. To get medical care for your heel spurs, contact one of our podiatrists from Cascade Foot Clinic. Our doctors will do everything possible to treat your condition.
Heels Spurs
Heel spurs are formed by calcium deposits on the back of the foot where the heel is. This can also be caused by small fragments of bone breaking off one section of the foot, attaching onto the back of the foot. Heel spurs can also be bone growth on the back of the foot and may grow in the direction of the arch of the foot.
Older individuals usually suffer from heel spurs and pain sometimes intensifies with age. One of the main condition's spurs are related to is plantar fasciitis.
Pain
The pain associated with spurs is often because of weight placed on the feet. When someone is walking, their entire weight is concentrated on the feet. Bone spurs then have the tendency to affect other bones and tissues around the foot. As the pain continues, the feet will become tender and sensitive over time.
Treatments
There are many ways to treat heel spurs. If one is suffering from heel spurs in conjunction with pain, there are several methods for healing. Medication, surgery, and herbal care are some options.
If you have any questions feel free to contact our offices located in Bend and Redmond, OR. We offer the latest in diagnostic and treatment technology to meet your needs.
Read more about Heel Spurs